One of my favorite breakfast meals is French toast. My mom still makes some of the best French toast I've ever had. This one isn't your typical French toast recipe, but it's pretty tasty. What's nice about it is that it can be tailored to your tastes as far as what kind of berries you use and what not.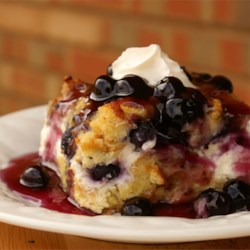 http://images.media-allrecipes.com//site/allrecipes/area/community/userphoto/big/381517.jpg
Overnight Blueberry French Toast:
12 slices day-old bread, cut into 1 inch cubes
1 (8 oz) package cream cheese, cut into 1 inch cubes
1 cup fresh blueberries
10 eggs, beaten
2 cups milk
1 tsp vanilla extract
1/3 cup maple syrup
1 cup white sugar
2 tbsp cornstarch
1 cup water
1 cup fresh blueberries
1 tbsp butter
1. Lightly grease a 9x13 inch baking dish. Arrange half the bread cubes in the dish and top with cream cheese cubes. Sprinkle 1 cup blueberries over the cream cheese and top with remaining bread cubes.
2. In a large bowl, mix the eggs, milk, vanilla extract, and syrup. Pour over the bread cubes. Cover and refrigerate overnight.
3. Remove the bread cube mixture from the refrigerator about 30 minutes before baking. Preheat oven to 350°.
4. Cover, and bake 30 minutes. Uncover, and continue baking 25 to 30 minutes, until center is firm and surface is lightly browned.
5. In a medium saucepan, mix the sugar, cornstarch, and water. Bring to a boil. Stirring constantly, cook 3-4 minutes. Mix in the remaining 1 cup blueberries. Reduce heat, and simmer 10 minutes, until the blueberries burst. Stir in the butter, and pour over the baked French toast.
Note: I sprinkled cinnamon over the top of the French toast before refrigerating. I used 1/2 cup of maple syrup instead of a 1/3. And I whipped the cream cheese with a little bit of milk to make easier to spoon over the bread cubes.